---

Ausfilm

International film commissioners were gathering at the largest Locations and Location Services tradeshow in Los Angeles for their annual expo.

Ausfilm approached Walkin Promotions to produce a specialty piece of merchandise which actively promoted and marketed Australia internationally as the world's best destination and environment for film, television, commercials and digital production. The product needed to be iconic to the Australian culture and representative of Ausfilm in the world market. It also had to generate traffic to the Ausfilm tradeshow stand and specifically promote the Ausfilm website.

Walkin Promotions presented a concept recognised throughout the world as the "Aussie" thong and promoted Australian locations as among the best in the world. They used elements and colours of the Ausfilm logo and laser cut the underside of the sole of the thong with Ausfilm's web address. This would leave their mark of advertisement in the sand.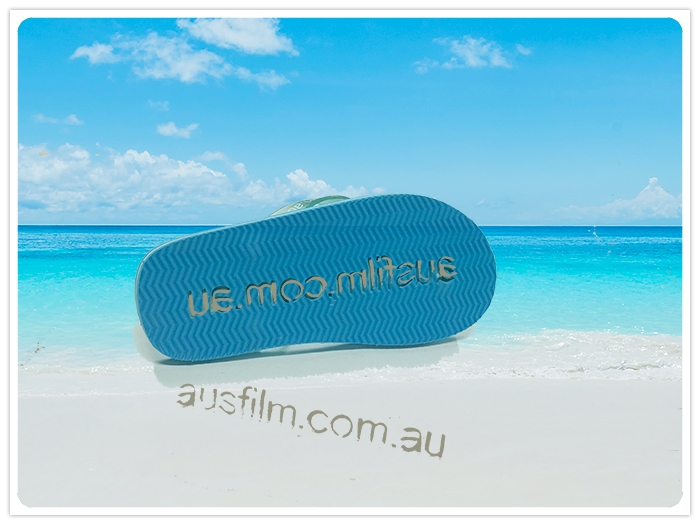 The product was distributed at the Ausfilm stand at the AFCI Locations Trade show in LA and was so successful that the product won first place in the 2006 International Marketing Awards for Film Commissioners under the category of "Specialty Items - Country".

WHAT THE CLIENT SAID
"The thongs were so popular the rule was made to only distribute to film executives that enquired about filming in Australia. The reputation of the item increased within the industry and a re-order was made to distribute at theCannes Film Festival where it was also a sought after piece of merchandise".

Jennifer Millington
Marketing and Development Officer
Ausfilm

WHAT THE JUDGES SAID
The concept (although not new) was used in a unique way that drove increased traffic to their stand.
A product which is definitely as Australian Icon and fits the brief perfectly resulting in re-orders and a product which the client felt reflected their brand.
The branding is well done and promotes their website in a way that will be remembered.
Created additional exposure and products use outlived the tradeshow.
Gave the client substantial additional exposure by winning first prize in the international Marketing Awards for Film Commissioners - brilliant.

Awards
2006 Gold APPA - Tradeshow and Conference Programs
2006 Silver APPA - Business to Business Programs
2006 1st AFCI Marketing Award - Country